Discover More about the Season of Giving
Here is an invitation to all financial advisors.
You may need to advise clients about charitable gift giving throughout the year.
I hope you can join me on Tuesday, November 30 from 12:00 – 1:00 p.m. St. Joseph's Health Centre Foundation will hold a virtual networking and information session for advisors. This is a St. Joseph's Health Centre Advisors Network special event.
The event will provide advisors with an overview of strategic philanthropy vehicles for estate planning, conversation starters for building meaningful legacies, and introduce St. Joe's new advisors toolkit.
The event will feature a special update on the redevelopment of the emergency department from St. Joe's new Chief of Emergency, Dr. Joan Cheng.
Advisor Council members Edward F. Olkovich, Certified Specialist in Estates & Trust Law, Edward Olkovich Law Professional Corporation and Anisa Arra, BSc, JD Principal Lawyer, Arra Law Firm will present.
The event will be informative, engaging, and interactive, as well as provide an opportunity to network with other advisors in our community.
You can register for this virtual event here.
I hope that you will join me for this very important discussion.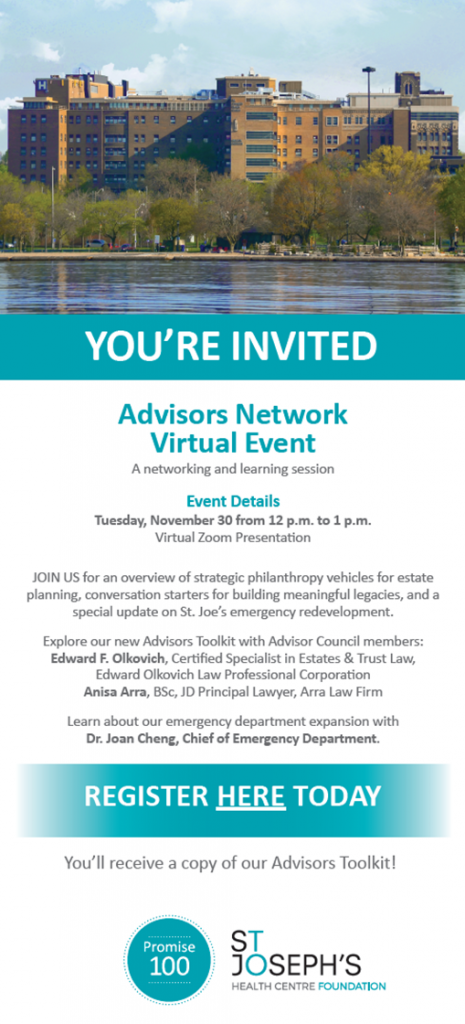 Posted In: Advisors, Estates On: November 26th, 2021