Edward Olkovich
Edward Olkovich is a Toronto Estates and Trusts lawyer known as 'Mr. Wills'. He provides legal advice to those who find legal matters confusing and stressful; helping you make better decisions with less frustration.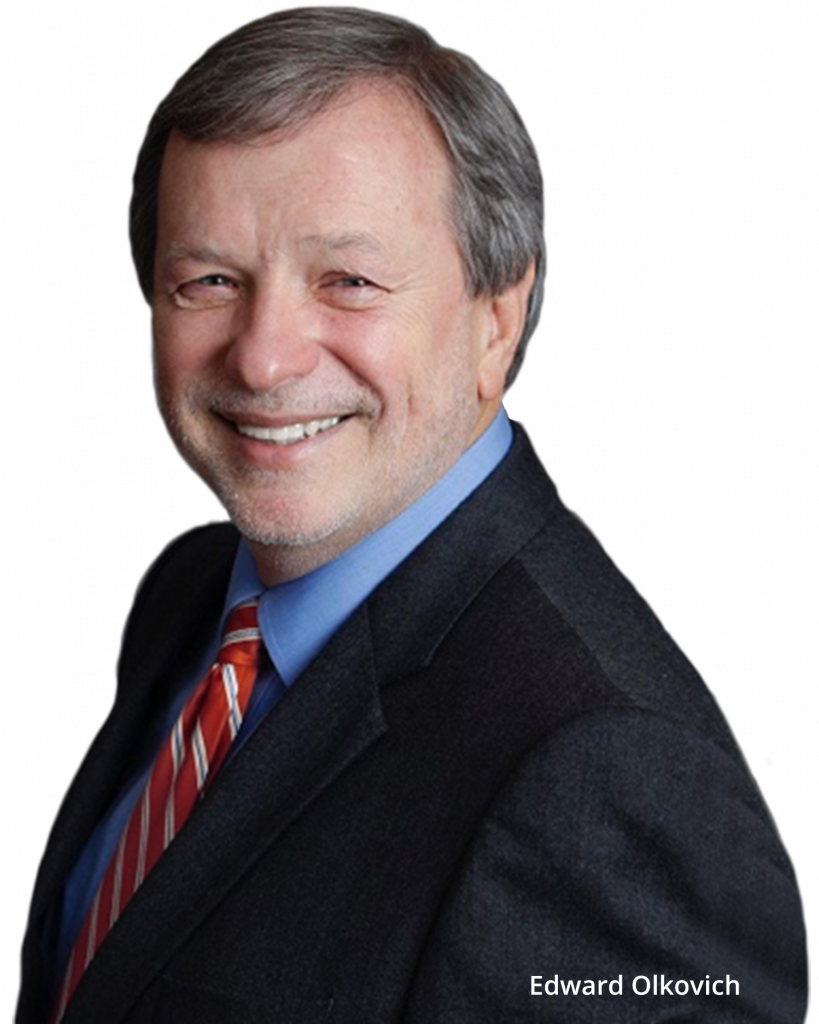 Ed Olkovich – The Lawyer
Edward Olkovich is one of few Ontario certified Specialist in Estates and Trusts. With over 35 years experience in Estates and Trusts Law, he resides in Toronto where he continues to help people resolve their estate challenges. He gets optimum results in court or in mediation for executors and estate beneficiaries.
Ed is a regular estate expert on radio and television. He stays on top of legal developments with continuing education. As a contributing editor of Carswell's legal text Compensation & Duties for Estate Trustees, Guardians & Attorneys, Ed also reports on "What's New".
Legal Credentials
Since 1978, Ed has practised law in his own firm
Past Chair of the Ontario "Make a Will Week" and past Co-Chair of the "Make A Will Month" campaigns, a province-wide public education program with the Ontario Bar Association; Law Society of Upper Canada; the Heart & Stroke Foundation; Ontario Cancer Society; and involved various sponsors such as Sun Life; the CIBC; and the Certified General Accountants Association of Ontario (now Chartered Professional Accountants)
Former instructor in the Ontario Bar Admission Course in Estate Planning and Administration, Business of Law, Taxation and professional responsibility courses
Chair of the Law Practice Management and General Practice Sections of the Ontario Bar Association and past Executive Member of the Trusts and Estates Section
Associate Member of the American Bar Association and Book Reviewer for Law Practice Management Magazine
Speaker/Chair at Ontario Bar Association and Law Society of Upper Canada programs
Lecturer on estate planning at Schulich School of Business MBA courses
Professional Memberships
Law Society of Upper Canada Specialty Board certifying Specialists
Ontario Bar Association
Society of Trust and Estate Practitioners (STEP)
American Bar Association (Associate)
Ed reviews new legal developments and writes about:
Compensation for Estate Trustees and Executors
Duties of Estate Trustees and Executors
Estate Litigation on will contests and capacity challenges
Duties of Guardians and Attorneys for property and personal care
Ed Olkovich – The Author
Ontario's Law Society of Upper Canada certifies lawyers with enhanced skills, experience, and knowledge. Edward Olkovich has written numerous estate books, special reports, and free e-books. As a way of sharing his knowledge with the public, Ed's Learning Center provides free valuable information about your legal rights and obligations.
Articles written by Ed have appeared in magazines including CARP (Canada's Association of Retired Persons), Divorce Magazine, The American Bar Association Practice Management Magazine, and Lawyers Weekly.
Books, home study guides and courses:
Executor Kung Fu: Master Any Estate in Three Easy Steps
Executor Beware: Your Complete System to Probate, Tackle and Tame Any Estate
Breakthrough Estate Planning: Finding All the Answers You'll Ever Need
Choosing Executors: Your Formula for Success
Estate to the Heart: How to Plan Wills and Estates for Your Loved Ones
Estate Planning in Six Simple Steps
The Complete Idiot's Guide to Estate Planning in Six Simple Steps for Canadians
The Complete Idiot's Guide to Wills and Estates for Canadians
Founder of EstateTherapy.com an online publisher of estate information
Published hundreds of blogs posts on Mrwills.com, EstateTherapy.com and Money.ca
Platforms Ed has been quoted in include:
The Toronto Star
The Toronto Sun
The Globe & Mail
The National Post
Edmonton Journal
Financial Executive's Money Planner Magazine
Reader's Digest
The Forum
The Law Times
Money Sense
Zoomer Magazine
Money Magazine
Ed Olkovich – The Speaker
Continuously sharing his knowledge and expertise as a media estate expert, Edward Olkovich writes to, and has spoken in front of public and professional audiences. He has toured Canada speaking about Estate planning to audiences of 1000. Ed gives clear explanations of your options, always speaking in a plain language you can understand; you'll make better decisions with less frustration and stress.
National Speaking Events
CIBC/Wood Gundy Wills + Canadian Tour Estates Series
Edward Jones Satellite National Teleseminars on Estate Topics
Peel Institute Seminars for Financial Advisors
National Publishers Campaign for the Complete Idiot's Guide Series
Other Speaker Credentials
Taught estate law to bar students for the Law Society of Upper Canada for several years
Speaker/Chair at Ontario Bar Association and Law Society of Upper Canada programs on various legal topics
Past Chair of the Ontario "Make a Will Week" and past Co-Chair of the "Make A Will Month" campaigns
Dundee Securities
Investment Planning Counsel
Toronto District School Board
Assante Estate and Insurance Services
Edward Jones
Instructor Mini Law School
Various legal education programs
Regular lecturer for the Toronto Chapter of the Certified General Accountants of Ontario Association (now Chartered Professional Accountants)
Frequently quoted as an expert in national and local publications
Media guest: estate expert on television and radio
lecturer for Schulich MBA Program on Estate Planning
Regular co-host of a Toronto radio show on estate planning topics
Toronto Reference Library
Turner & Porter
Sudbury District Law Association